13704 Shelbyville Road, Louisville, KY 40245 | View Map
(502) 891-0100
| Branch Hours | Lobby | Drive Thru |
| --- | --- | --- |
| Monday - Thursday | 9:00 a.m. - 4:00 p.m. | 8:30 a.m. - 5:00 p.m. |
| Friday | 9:00 a.m. - 6:00 p.m. | 8:30 a.m. - 6:00 p.m. |
| Saturday | 9:00 a.m. - Noon | 9:00 a.m. - Noon |
Kirk Esarey, Business Development Officer
kesarey@fcbok.com | (502) 891-0100 | (502) 244-5475 Fax | NMLS 419152
13704 Shelbyville Road, Louisville, KY 40245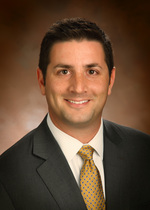 Kirk Esarey currently serves as Assistant Vice President, Business Development Officer and Manager of the Middletown Banking Center located at 13704 Shelbyville Road.
He has over 7 years of experience and an in-depth knowledge of the mortgage industry, where he has specialized in secondary market and portfolio lending during his career. He believes that his ability to provide excellent service and focus on individual needs of his customers has resulted in his successful customer base.
Kirk is a graduate of St. Xavier High School and University of Kentucky.