9819 Brownsboro Road, Louisville, KY 40241 | View Map
(502) 822-7010
Hours
Relationship Banker/MLO
| Branch Hours | Lobby | Drive Thru |
| --- | --- | --- |
| Monday - Thursday | 9:00 a.m. - 4:00 p.m. | 8:30 a.m. - 5:00 p.m. |
| Friday | 9:00 a.m. - 6:00 p.m. | 8:30 a.m. - 6:00 p.m. |
| Saturday | 9:00 a.m. - Noon | 9:00 a.m. - Noon |
Tony Gregory, Relationship Banker/MLO
tgregory@fcbok.com | (502) 822-7003 | (502) 425-0380 Fax | NMLS 434830
9819 Brownsboro Road, Louisville, KY 40241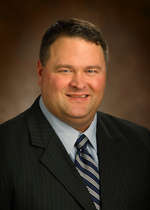 Tony Gregory began his banking career in 1999 after serving in the United States Air Force. Tony joined First Capital Bank of Kentucky in November, 2015, as Relationship Banker and Mortgage Loan Originator. His office is located at the Old Brownsboro banking center.
Prior to this appointment, Tony served Louisville area customers at another financial institution as a Mortgage Loan Originator. He takes pride in offering superior customer service by assisting his customers with achieving their financial goals. His vast knowledge of personal lending, mortgage lending, and business development has provided many opportunities for him to build long-lasting, trusting relationships with his customers.
A Louisville native, Tony attended the University of Louisville where he achieved his B.S. in Business Administration.
Tony is visible in the local community where he has coached competitive youth soccer for the past 13 years.